Hi everyone!
🆘️ 🆘️ 🆘️ PLEASE SUBSCRIBE to our YouTube channel for loads of useful information. Thanks! 🌹
Though ancient beyond belief and occurring in indigenous iconographies all over the world, the Pentagram has become the symbol of magic and Witchcraft. A five-pointed star enclosed within a circle, it is used for invocation, banishing, protection, and as a recognition symbol. Witches will often have a small Pentagram about them, just as Christians will wear a cross on a necklace or lapel pin; for the sense of security it gives them, as a reminder to be conscious of who and what they are, and so other Witches may know them for kin.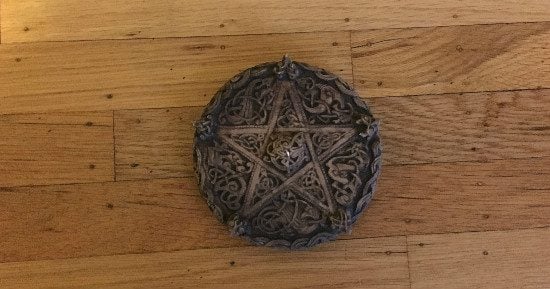 The Pentagram has more meanings than any other symbol in Wiccan iconography. It means perfection, evolution, working to completion, and is a glyph of the way energy moves between the Godhead and humanity and back again. It symbolizes the five physical senses with the spirit at the center; different forms of it represent each of the four magical elements while one form represents all four elements with spirit either at the top or bottom; it also represents motion of the Universe, weaving itself within a place of perfect stillness.
In ritual magic, the symbolism of the Pentagram has been elaborated until it is possible to make it the object of lengthy meditations, and to make entire devotional phrases in Hebrew (in which language every letter has a numerical value, which in turn has an esoteric meaning) out of the proportions of the line segments. As these meditations deal almost entirely with that Deity represented by the Tetragrammaton, further detail is outside my scope here. Nonetheless, it is interesting to Witches to read some of the materials these traditions have generated on the subject, and can enrich our understanding of the meanings and uses of the Pentagram.
There are two primary variations on the Pentagram, as used by Wicca. These are the Banishing and Invoking Pentagram, and the difference between them is
READ MORE:  https://www.patheos.com/blogs/agora/2016/05/the-rantin-raven-the-riddle-of-the-pentagram/
Continue reading "The Rantin' Raven: The Riddle of the Pentagram BY DANA CORBY" →