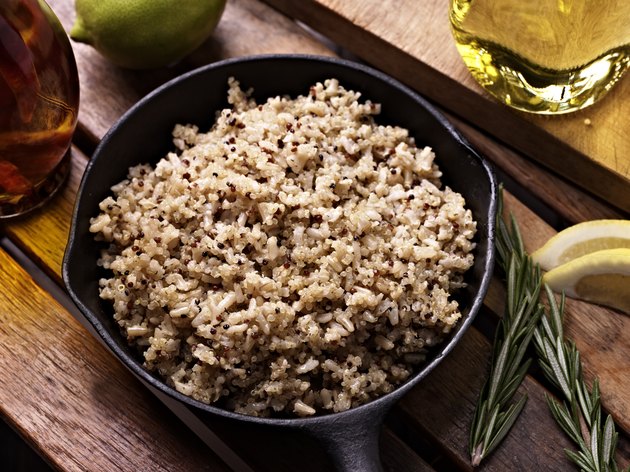 If you're looking to avoid gluten or simply want to add some variety to your plate, add quinoa to your cart. Quinoa is a naturally gluten-free seed (yes, it's technically a seed) that's safe for those with gluten intolerance or sensitivity, according to the Celiac Disease Foundation.
However, not all products or quinoa blends are necessarily free of gluten, so you should check for
gluten-free labels
 on your quinoa packaging. Likewise, at a restaurant, you'll want to verify your quinoa is prepared separately from gluten-containing ingredients such as wheat, rye or barley.
Why You Should Include Quinoa in a Gluten-Free Diet
When it comes to the many marvelous types of grains, knowing which varieties do and don't contain gluten requires some memorization. Alongside gluten-free buckwheat (yes, buckwheat is gluten-free even though the word 'wheat' is within its name), quinoa is another you can add to the gluten-free list.
Quinoa is high in fiber, iron and magnesium, according to the Whole Grains Council. You'll get about 3 grams of fiber total, which is about 12 percent of your daily recommended value, per 1/4 cup of uncooked quinoa.
Quinoa is also one of the only plant-based sources of complete protein, meaning it contains all nine essential amino acids that your body can't produce on its own. You'll get about 6 total grams of complete protein per serving.
Tip
If you haven't eaten quinoa before and have a gluten intolerance or sensitivity, introduce it into your diet gradually, recommends Joanna Foley, RD. "Quinoa should be well tolerated by most people with gluten sensitivity, yet should be introduced gradually and in small portions to allow the body to become familiar," she says. "Always pay close attention to symptoms, since it is possible to develop sensitivities to many foods."
Verifying Your Quinoa Is Gluten-Free
In its natural form, quinoa is gluten-free. However, quinoa can be exposed to gluten-containing ingredients either during preparation or during manufacturing, according to the Celiac Disease Foundation. So, if you're at a restaurant, you'll want to verify that your quinoa is prepared on separate surfaces and with separate utensils.
When buying packaged quinoa, check the container to make sure it's safe from cross-contamination. If your package is labeled gluten-free, that means it contains less than 20 parts per million (ppm) of gluten, making it generally safe for consumption, according to the FDA.